Heather M. - Experienced Math and English Tutor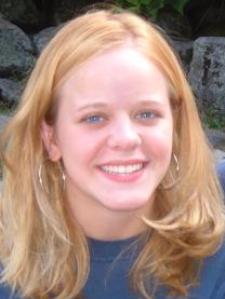 $50 / hr
Lebanon, ME
10 miles Travel Radius

In-person + Online
I have a degree in Secondary Math Education, and I also graduated with a minor in English. From 2006-2010, I taught 7th through 12th grade math and English in a private school. The English classes included spelling and vocabulary, grammar and composition, and literature. My math classes included basic math, pre-algebra, Algebra 1&2, geometry, trigonometry, business math, pre-calculus, and calculus. While teaching at the school, I worked with kids (both in the classroom and one-on-one) who...
Reviews
Heather was very helpful to my daughter. My daughter said she really helped her understand what she needed for her precalculus test
- Laurie F. from Schwenksville, PA
When Heather helps, she's kind and patient, but quickly tries to zero in on your specific needs and quickly works towards helping with problem solving, questions to help direct your needs.
- Molly W. from Red Hill, PA
My daughter has improved her Math grade from a B to an A. She made high honors this marking period! Heather is very flexible and friendly. Autumn is able to bring her computer to the house so they can review Khan Academy work in Math. We are able to time our tutoring sessions before a Math test. The extra time helps my daughter be less frustrated and anxious before a test. Thank you!!!
- Darlene N. from Perkiomenville, PA
I took my middle school aged daughter to Heather for a total of 8 one hour sessions. Her grade improved from a C to a B in that time frame. Heather was so friendly and my daughter felt comfortable with her right away. She was very business like, never wasting time on small talk but got right into the lesson. We would chat afterwards when the lesson was finished. The environment was quiet and although she has two small children, they were always kept busy and out of the way of her tutoring. She was very good at explaining how to solve the problems in a way that could easily be understood. Heather was patient and never intimidating. I would recommend her and will reach out to her again if need be.
- Cheryl M. from Harleysville, PA
Heather has been consistent is getting Sam the detail and subject content needed to improve his ACT testing. Heather has been flexible with scheduling needs, and we feel very lucky to have found Heather to help our son.
- Samuel F. from Reading, PA
Heather not only helped my daughter gain knowledge and confidence, she made her a better all around student. What were 70's in 10th grade were 90's by 12th grade. Thank you Heather.
- Jack N. from Gilbertsville, PA
Heather had just returned from vacation but still honored our request for much needed tutoring. Her availability and great personality made our experience wonderful!
- Tina E. from Souderton, PA
I am a high school student taking college classes. My Precalculus class last semester was unbelievably difficult with an enormous amount of homework and only a few exams to make up my grade. I honestly thought I was going to fail. My mom recommended that I get a tutor. I found this website and picked Heather because she was nearby and had experience with Precalculus. It was my best decision of the year! I ended up getting a B+ in my class. Heather is so patient, easy to talk to, and never makes me feel silly for not knowing things. She's very friendly. She gives me amazing tips and tricks and really helps me to understand math, and even enjoy it sometimes! I'm taking Precalc II this semester and I plan on seeing Heather before every test. She is an amazing tutor. I don't know what I'm going to do without her when I go away to college next fall! A++!
- Tessa W. from Collegeville, PA
"Mom,she's amazing" "I'm so happy you found her" "Heather makes it so easy to understand math" these are just a few of the comments I received from my son after one session with Heather. And he can't wait to go back next week! Thank you Heather!
- Christine M. from Collegeville, PA
Heather did something with Lisa that I didn't think could be done. Not only did she help her learn and understand a math class that I didn't think she was capable of handling, but she will likely get a B grade or better. I thought even with a good tutor that she still would not be able to pass this course. And although it is a very difficult thing (for me at least) to pay $50 an hour, it was WELL worth the cost. Not only was she an excellent tutor, but also worked with a very flexible schedule to accommodate Lisa. I am extremely happy with what Heather did and would recommend her to anyone. Job extremely well done. Thank you very, very much.
- Ken W. from Boyertown, PA
Search More Tutors in the VIU Area